Why choose us?
---
We are a professional company with years of experience in the transportation industry. When it comes to luxury transportation, there's no other company in the area doing what we do for the affordable rates we offer. You're bound to enjoy our transportation, as we carry the highest quality vehicles to ensure that your trip is exactly what you've come to expect from a professional transportation provider. You'll enjoy the best vehicles amenities, making your trip in Tampa one to remember.
---
---
Tampa Party Buses
Affordable luxury transportation
For Tampa, Florida
Clearwater Party Buses
Clearwater's Finest in Luxury Transportation!
---
---
Clearwater, Florida, located just northwest of Tampa lies just to the east of the Gulf of Mexico. It is known for being the county seat of Pinellas county, and for being the home of the historic Cleveland Street along with Bright House Field, Coachman Park, and Clearwater Marine Aquarium. Clearwater is a beautiful tourist location, and is well known for how gorgeous it is. In fact, it holds the world record for most consecutive days of sunshine in a single year! If that's not a reason to visit Clearwater, we don't know what is. Here are a list of our favorite restauraunts and bars in Clearwater. We also have some top notch friends there at Clearwater Party Bus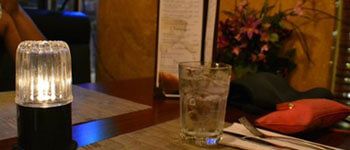 Salt N Pepper Bistro
This is a fantastic, and also low-key example of exquisite and delicious French cuisine in the Clearwater area. They are well known for their crepes, wines, cappuccinos, French onion soups, and desserts. If you are feeling like getting some of the finest foods from across the ponds, while being treated to some excellent service, then Salt N Pepper Bistro is an excellent place for you to get lunch or dinner.
Cristino's Coal Oven Pizza
If you're looking for a more cozy, and yet still classy place to dine in, then Cristino's Coal Oven Pizza would be a prime choice for you. They have excellent, delicious, and crispy pizza expertly crafted and cooked in a coal oven. However, their pizzas aren't the only fantastic thing on the menu at Cristino's. They are also well known for their delicious raviolis like their crabmeat ravioli, as well as their delicious gelato!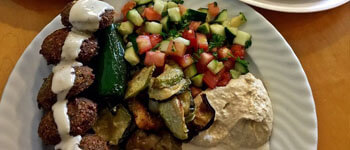 Mana Mana
Mana Mana has some of the best Mediterranean food in the region, and easily has the best value for Middle Eastern food in Clearwater. It's an excellent location for lunch or an early dinner. The food is authentic, with food such as the delicious Shawarma pita, the chicken schnitzel platter, and their sides such as their Baba Ganoush and their hummus. Mana Mana is a fantastic value, especially for how good the food is.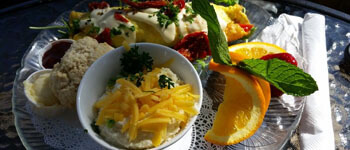 Wildflower Cafe
Perhaps you are looking for an eclectic location to enjoy breakfast, lunch, or brunch on the weekend to start a beautiful day on the beach in scenic Clearwater--well Wildflower Cafe is the perfect place for you. They have an excellent and surprisingly diverse spread of food that will surprise you with how affordable it is. It has a quaint and cozy atmosphere and has nice outdoors seating as well if you'd like to enjoy the nice weather. While you're there, make sure to check out their Market with fresh foods as well!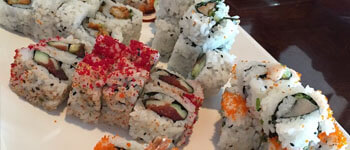 Pisces Sushi and Global Bistro
If you're looking for delicious, authentic sushi, then look no further than Pisces Sushi and Global Bistro. With their famous Chef James Keene has some of the greatest premium and original sushi rolls in the entire state of Florida--nay, the entire country! Their Mango Madness and Shroom a Zoom Zoom rolls in particular are superb. They also have an excellent Tapas menu, as well as delicious food on their soup and salads menu.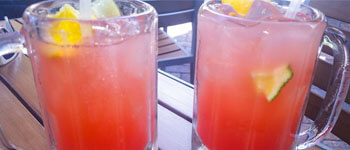 Rumba Island Bar & Grill
The good folks over at Rumba Island Bar & Grill know that if there's one thing that is great about the Florida coastline it's the seafood. Rumba Island perfectly blends an expertly crafted menu with an excellent bar as well a brilliant atmosphere. Their food such as the Jamaican greens, the pork BBQ, the steak kabobs--even just thinking about it is making us hungry. Combine this with their fantastic specialty cocktails and you have one excellent lunch or dinner option.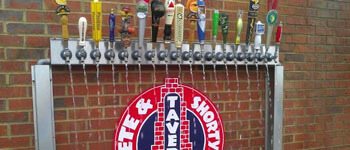 Pete & Shorty's Tavern
There are few combinations more timeless and beloved than burgers and beer, and Pete & Shorty's Tavern perfectly satisfies this craving. They have some of the juiciest burgers around, along with delicious apps and sides like their fries and onion straws, which are fried to perfection. Their beer selections and specialty drinks will be enough to make you want to stay well after dinner is over.
1933 Pub & Grill
Themed after a post-Prohibition Pub, 1933 Pub & Grill is a unique and fun location with a one-of-a-kind atmosphere that you will not soon forget. They have special themed cocktails and an excellent selection of beers and liquors that will make you want to keep coming back for more and more. Not only that, but they have an excellent and unique menu such as their Shroom Burger and their All In Chips & Dip that will keep your stomach full as you indulge in their fantastic drinks.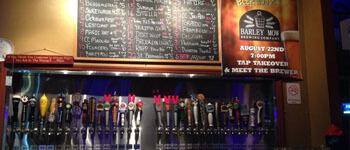 Capitol Beer House
The environment provided by Capitol Beer House is unlike most others. They have a brilliant, gigantic screen, ample pool tables, live music, and a cozy, but exciting environment. Their bartenders are more than knowledgeable about all of the different types of drinks and the exact nuances of all of the different beer selections that are available. The service at Capitol Beer House is unmatched, and your experience there will perfectly reflect that.
Overtime Sports Bar
Perhaps you are most interested in attending a classic, but excellent sports bar. Sometimes you just can't beat sitting down with a group of friends and enjoying a beer while watching the Buccaneer's game. They are well known for their excellent bar staff as well as their karaoke on Friday and Saturday nights. Be sure to take a whack at their wings because they are juicy and have that special kick that will leave you reeling.
Curious?
How to use a party bus?
Wondering about Tampa Party Buses?