Party Bus Crystal Springs, FL
Aboard the ultimate Party Bus experience
Can you think about a transportation service capable of granting fun times, reasonable prices, and suitable spaces for any group size? Indeed, it's challenging to imagine such a service. However, your transportation needs are our first priority in Crystal Springs Party Bus.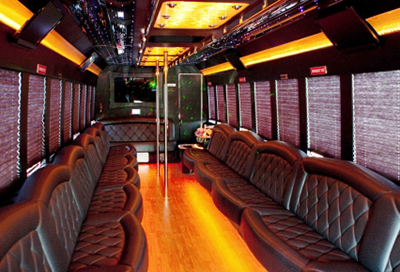 42 passengers party bus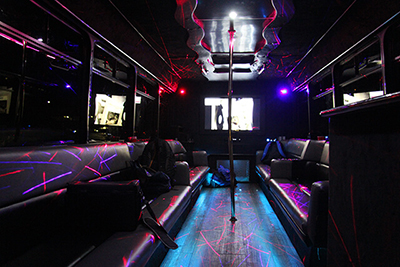 Limo bus amenities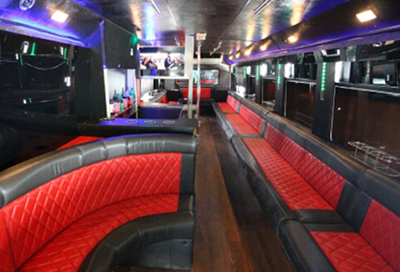 40 passengers party bus interior
A party bus service is not only a transportation method; it's a choice capable of providing never-ending experiences. Why? The entire fleet of vehicles is equipped to fulfill your whole package of party lovers. Stop going around in circles looking for cheap party bus rentals when your best choice is here.
Our pleasure is our customers' satisfaction. We are meticulous when providing excellent service anywhere at any time. Our goal is to create beautiful memories at your special events with a party bus service that will never fail you.
Excellent amenities for your special day
---
Our party buses and limousine rentals are equivalent to the creme de la creme of transportation services. How is a single vehicle that sumptuous? Let's start with the excellent amenities that our services provide. We intend to impress you with comfortable conveniences, including leather couches, colorful led lighting, and spacious interiors to fit your party members. Relax with our wide TV screens about the details of a vibrant party, dance like there was no tomorrow with the excellent sound system, and please your guests serving drinks from the mini bar. We can continue mentioning numerous features that can turn any party into a hard celebration, but we want to let you discover them yourself.
Your trips are the reason why we spend time on the road. But that's not enough. Choose our services of party buses for transportation of different group sizes. For example, a modest group of 15 passengers can take advantage of the practical seating design of a shuttle service. On the other hand, an elegant limo bus is an ideal choice if you want to throw a party with middle-sized groups. Finally, get just the perfect fit for your large groups aboard our charter buses. The group transportation options are numerous; just contact us to check an ideal vehicle for your next event.
A good party plan is an ensured good time
---
We strive to turn your parties into outstanding experiences thanks to the best party buses in Central Florida. We are good at getting the party started whenever a customer travels with us. What are you waiting to be the next lucky customer? If you are concerned about our serving range, ease your mind, we have experience riding in Florida. Party Bus Tampa covers a large service area, ensuring every place and city has its own rentals for special occasions. Whatever your plans are, a party bus will make the perfect complement to increase your fun times. Let us show you how to take advantage of a visit to Crystal Springs.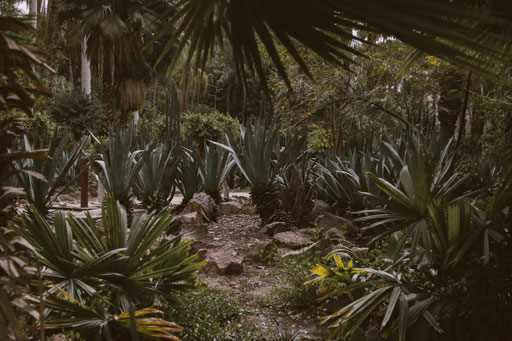 Relish the nature
Plan a trip itinerary for a tip through the natural areas, parks, and lakes. Start by making a reservation to enter Crystal Spring Preserve on Saturdays. You will learn about nature and how to preserve ecosystems, an ideal tour for kids and adults. Go with your family on an exciting journey aboard a 15 passengers shuttle bus rental.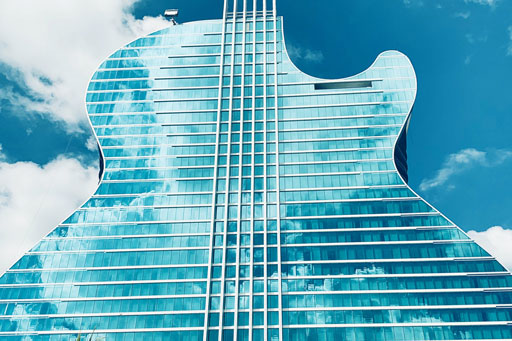 At 40 minutes of Tampa
While you travel, you must stop in the incredible places you will find on the road. For example, Dinosaur World in Plant City is a fantastic park with real-sized sculptures of extinguished reptiles. If you decide to stay at Seminole Hard Rock Hotel, we can tell you that the feeling of being a superstar will be totally understandable. Trust in our stylish and comfortable party buses for your trip!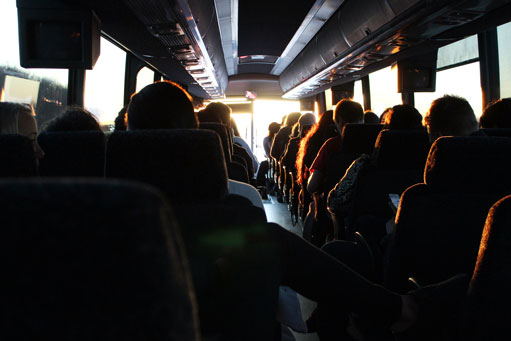 Dynamic party bus trips
Get ready to get physical in your sporting events. An activity that you must include is canoeing and kayaking. Practice sports that both teams and enthusiasts worship. Travel with a large crew on our coach buses or charter buses, excellent vehicles with full functioning that will never stop in the middle of the road.
Bigger events on our party buses
---
We are professionals leading special events like no other company. In our fleet, you will discover the best way to arrive at your one-lifetime occasion, like an upcoming wedding, prom night, or quinceanera party. Our stretch limos are more than optimal choices to increase those elegant moments with satisfactory success. Invite your guests to assist with the ceremony aboard a fancy limo bus. Surely, everyone will get the expected reaction: speechless but excited.
But when it comes to having insane tons of diversion in one place, a limo bus is the absolute choice for your birthdays and bachelor/bachelorette parties. The dynamic party atmosphere is always active inside a party bus in Crystal Springs.
Being amused in a party bus is excellent, but being relaxed on an executive outing is a wholesome feeling. Have your corporate events with the elegance that each trip requires. Choose the option of charter buses for 40 or 60 passengers for a company outing, or prefer a smaller choice of a mini bus for a co-worker's excursion. No more traditional celebrations at the office when you can go with your team anywhere in the Tampa Bay area. For other events, depend upon us to increase the celebration mood with an utterly qualified car rental service.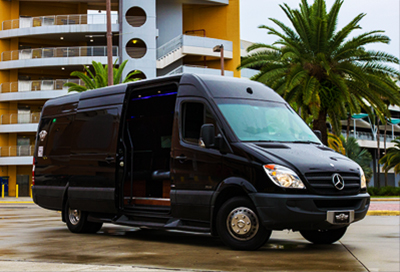 15 passengers party bus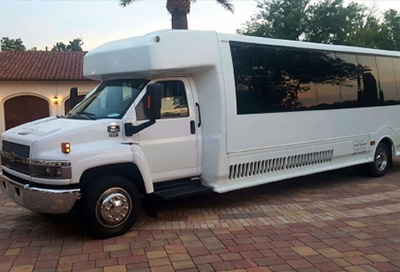 32 passengers party bus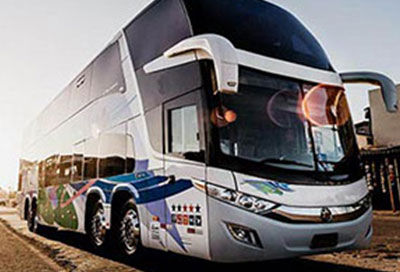 Charter buses
Choose the right party bus company
---
Any customer wants to focus on the party details, the food, the drinks, and the guests. Sometimes it is hard to find a place that can be economical and glamorous, but it's not impossible. Our limo and party bus prices are based on each customer's experience to provide an affordable price. Receive a neat vehicle with clean amenities with every rental. We always aim to offer an exquisite service that leaves you wanting to taste more.
Traveling in our airport transfers feels like walking on air because we count on excellent models of luxurious vehicles. Our loyal customers know us as a committed party bus service that guarantees a good time on every ride. Time flies, but we can give you the pleasure of making it last more inside our party buses.
If your special event will have alcohol, an expert handling the steering wheel must be imperative. Our professional chauffeurs have the expertise to give pleasant rides for your safety. We want you to leave your heart and soul at the party, not on the road. Contact us and receive a free quote for your first booking.