Party Bus Land O' Lakes, FL
Rent a Party Bus for your great events
Do you have a special event approaching, and you need to prepare the celebration details earlier? You are in the right place to solve your transportation needs. In Land O' Lakes, there is no better service for renting vehicles than us. We offer a party bus rental and a limousine service that is clearly the pick of the litter. No other car service will fulfill your expectations like we certainly will.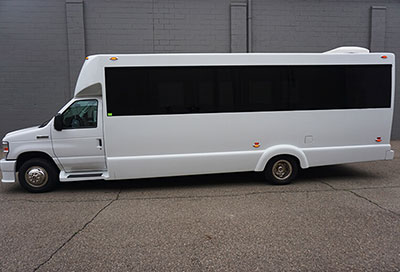 Limo bus for 30 passengers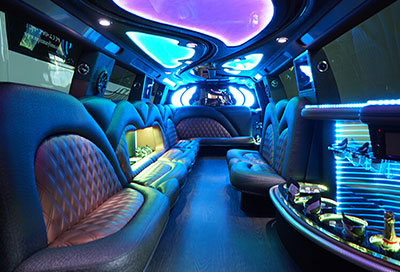 Amenities in our limousines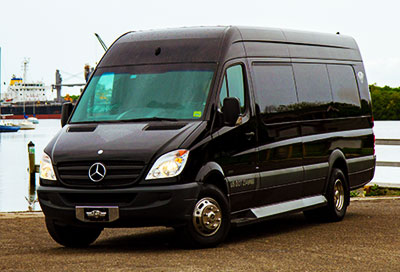 15 passenger party bus service
You can find many options for car services in the Tampa Bay area, but none is comparable to ours. Exceptional service requires preparation, high quality, and attentive customer service. We are proud to provide all those characteristics and more in every rental we provide.
Getting the party started, no matter the occasion, is our proficiency. If you decide to rent a party bus or a limo service, any special event will be a fantastic memory for the future. Trust us; you won't be disappointed.
Get excellent party bus amenities
---
With the advantage of hiring a party bus service in Land O' Lakes, your celebrations will be great scenarios to live a deluxe experience. On a party bus service, you will get the best devices for your entertainment, such as flat panel TVs, a powerful sound system, and plush leather seating. For extra comfort, find attractive minibars and pole dances in the party buses with wider capacity. Our limo rentals are also exceptional alternatives for complete enjoyment. Get a sleek limo with vibrant led lights and comfortable modern-designed couches. We are always pleased to provide a well-conserved party bus and limo rental service.
How many people can fit in a party bus service? Our fleet of stunning vehicles has different options for seating capacity for your guests. Depending on your group's needs, you will receive small, medium, or large party buses. Choose a shuttle service for 15 passengers for small groups on efficient rides. Medium-sized crews have the ideal capacity for 20 to 30 passengers. Our most spacious vehicles, charter buses, can comfortably hold 40 to 60 passengers. If you want thrilling celebrations inside the vehicle, choose our limo buses that offer an ideal lounge for 30 passengers or less. Regardless of the volume of your group of guests, you will always get an incredible party bus rental service.
A party bus: the perfect choice to travel
---
Well-known by its name, Lake O' Lakes is full of beautiful water bodies and ponds. Are you thinking what we are thinking? Of course, you are. Our transportation services are available to make your rides efficient. Start planning your journey itinerary so we set up your service with the best maintenance for your complete satisfaction. Our largest selection of vehicles is available in your area to give optimal rides at perfect times. We constantly work 24 hours daily because we know that diversion never sleeps and will always need a place to entertain. Don't wait until vacation to take a wonderful trip to the many exciting natural areas on Land O' Lakes.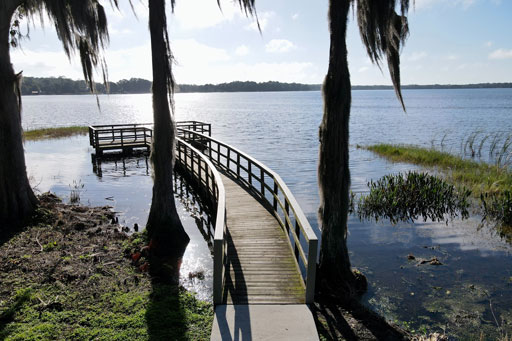 The best way to relax
The best choice for a relaxing trip through Land O' Lakes is to visit the natural parks and comfortable places in the area. Think about a picnic party in Land O' Lakes Heritage Park, where your family will enjoy live music, delicious food trucks, and amiable vendors. Cypress Creek Preserve awaits the best conveniences if you want a place to take your dog for a walk or hike with friends.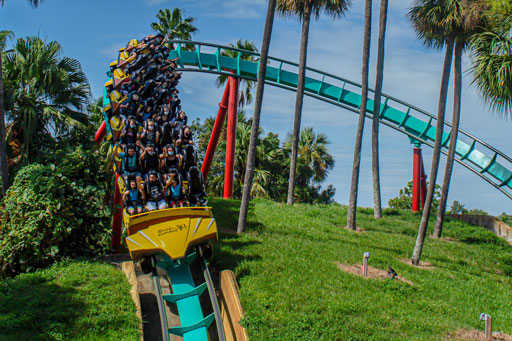 Busch Gardens Tampa
If the natural areas of Land O' Lakes, take a direct ride to Busch Gardens. In this popular amusement park, your thrilling moments begin with a perfect ride. And what other car services would be more fun than a party bus? Believe us, our party bus services create unique moments. Feel comfortable while our mini bus rentals give your group an easy ride to the best destination for entertainment in Tampa Bay.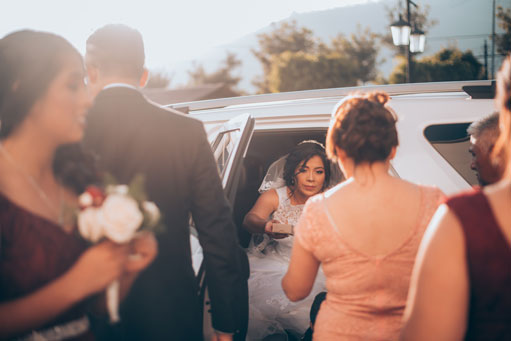 Fantasy rides on your wedding day
Become the event of the year with your incredible upcoming wedding. When a customer decides to rent a stretch limo, it automatically increases their romantic fantasy. But our stretch limos are not the only vehicles helpful in this celebration. You can hire a limo bus service for guests and complete your fairytale ceremony. Undoubtedly, your special event will remain in everybody's memories forever.
A special occasion to remember
---
Your special events motivate us to drive around Tampa Bay with the best party bus services available. For example, any next event is an excellent opportunity to become a party expert. Picture having your sporting events with larger groups of sports enthusiasts. Inviting, doesn't it? An ideal ride for significant numbers of guests is the matter of our coach buses. A coach bus rental is an option chosen by the most notorious sporting teams in Tampa. Let us share with you the same experience.r special event will remain in everybody's memories forever.
Let loose with your best friends at the most fun parties anyone can have. Whether it's a bachelor/bachelorette party, prom night, birthday party, or night out for drinks, your celebrations will be joyfully infectious. You can be relaxed because even if you have alcohol at your party, our professional chauffeurs will make sure to take everyone securely on the road.
Every company in Florida should give their employees relaxation time in Land O' Lakes. But that's not all; our corporate events are milestones if you hire the option of charter bus rentals to transport your crew. For the ride we will be more than pleased to cover the ride. If the outing is for fewer individuals, choose our shuttle buses for more practical rides.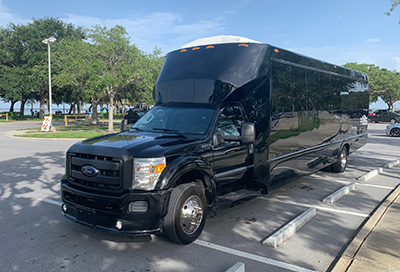 28 passengers party bus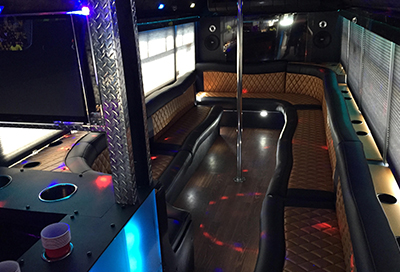 Party bus interior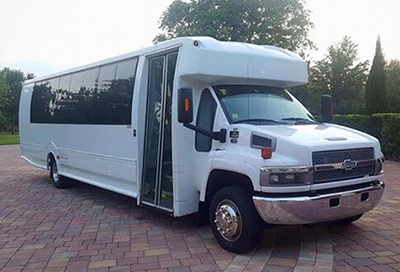 40 passenger party bus service
The best party bus prices
---
Our party bus company is the ideal place to hire a car service. We offer cheap party bus rentals because we believe a luxury vehicle doesn't need to be expensive. Aren't you convinced already? Let us start with our unique pricing system that allows you to save money. Get a personal pricing experience by calling and learning how we can provide an affordable price for our party buses.
In Land O' Lakes, Florida, we provide an excellent party bus service for travelers and residents. If you need car options from Tampa International Airport, discover the relaxing rides aboard our stylish airport transfers. Let loose on our party buses and other luxury vehicles; we assure you only the best times for journeying. Contact us today and receive a free quote for your first service!