Hire the most luxurious Party Bus Rentals
Are you having a special event soon but don't know what transportation service would be best? We are here to clear your mind. Our St. Leo Party Bus company offers incredible options of luxury vehicles for birthdays, weddings, proms, and every other event. We are excited to lead you through a party bus journey that will leave you wanting more.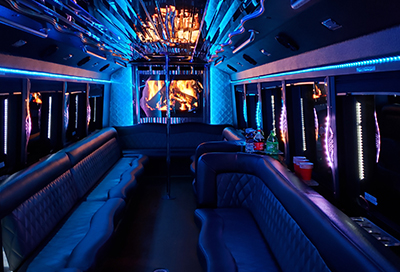 Neon party bus atmosphere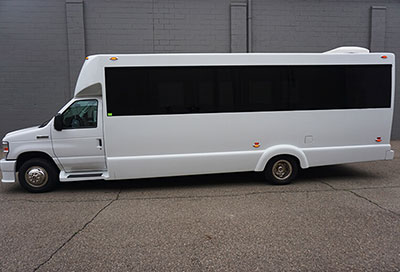 30 passengers limo bus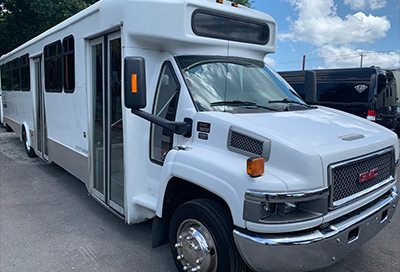 38 passengers party bus
Our extensive fleet of vehicles includes the very best transportation choices you can make. Why do we ensure that? We know exceptionally well our customers' reactions when they rent a service. Some have complete amazement when a party bus is delivered. Others gasp and gag when they feel the customized amenities inside. But always, there are boastful expressions when their party trip starts.
We are not modest in talking about our rentals. We are thoroughly proud of providing a specialized service that covers many cities in the Tampa Bay area. If you want to know more, let us show you that "more" is never enough for us.
Luxurious vehicles equal luxurious amenities
---
Starting vibing with a party bus service is knowing how to take the most advantage of it. For example, a party bus is equipped to entertain with music, videos, and movies while you enlive your guests. Get a fancy vehicle with high-quality televisions, rowdy sound systems, vibrant led lights, and leather-furnished seating. We crave your satisfaction, no matter the event. Our party bus and limousine service includes models of various sizes so you can move pleasantly with friends, family, or even a whole crowd. Our biggest goal is that you feel eager to continue celebrating with us for other special occasions.
Lean for our St. Leo party bus travels
---
Do you want to start a journey through the best locations near St. Leo, FL? To make a trip itinerary for your visit, we offer a transportation service with ample range in many cities. The expansive service area in our coverage possibilities includes cities like Land O' Lakes, San Antonio, New Port Richey, Wesley Palmer, Wesley Chapel, Crystal Springs, Dade City, and many more in Central Florida. We can make those rides easy for you. Therefore, we expect you to choose us over another car service. Please don't be shy of contacting us to repeat your ride; we always treat with the best attention our loyal customers.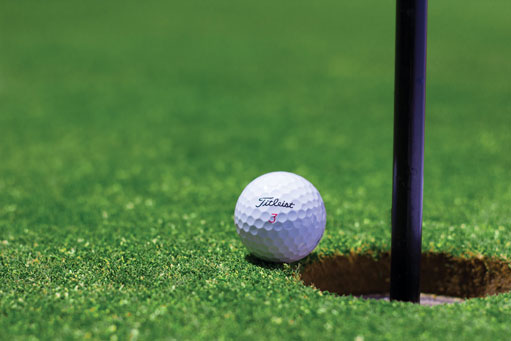 Travel to your sporting event
Relaxation times aboard our service are on our agenda for all our trips. In St. Leo, the eco-friendly alternatives for outings are reasons to enjoy your free time. Visit Abbey Golf Course & Driving Range, and your family or friends can practice golf or simply relish the view. For more pleasant times, stop in Lake Jovita for fishing for an entire evening.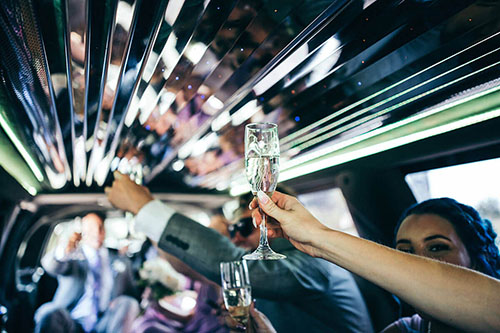 Graduate with honors
The St. Leo University students would like to rent a service for their special events. Imagine giving a friend the surprise of traveling around in a Hummer limo for their birthday. Exciting, right? Or, for your graduation ceremony, hire a car service to ride you and your family. But for the crazy party afterward, a limo bus is essential. Take advantage of your youth and create unforgettable memories.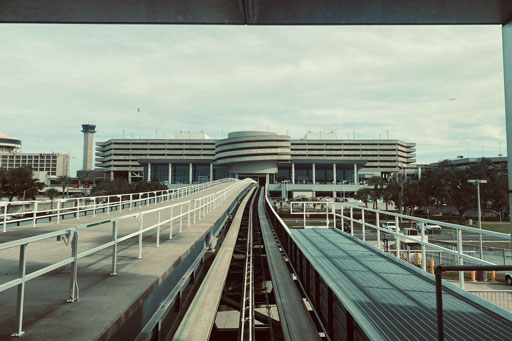 Airport transportation
If you come from another city or abroad, we have the perfect service after your flight. Our airport transfers can ride anywhere in the Tampa Bay area. With state-of-the-art models, our airport transportation services always succeed in keeping our travelers happy. How can I get a car for my next departure? Call us, and we will be eager to book your service.
Share your excitement in your next event
---
Every party with friends in our services becomes an invaluable piece for us. We make an unforgettable impression at your bachelor or bachelorette parties serving energetic vibes in our limo buses. Another excellent example of how our vehicles turn your parties into milestones is the area's sporting events. If you are looking to transport your university team for a competition, hire a coach bus with a seating capacity of 60 passengers. Choose a smaller but still practical option of shuttle service for few people.
As many amusing events are suitable in our party buses, for some other occasions like corporate events you will need comfortability over design. Our charter buses are usually the vehicles companies prefer to take their employees to business outings or executive travels.
When it's time for your upcoming wedding, ensuring the transportation service is an absolutely essential detail. The ceremony will be ideal for arriving sumptuously in a stretch limousine. These classical vehicles include the best amenities to enjoy your ride until your reception shows up for the "I accept." What else can we say? Our wedding transportation rules!
Get the party started from the moment you book!
---
Our favorite sensation is watching our customers happy with their services. But there is always a before and after to those moments. In the "stage before," our customers are happy because they receive an affordable personalized rate for their vehicle. In this way, we help our clients save money for personal expenses. It is time to give yourself the pleasure of a party bus rental. Stop looking online; we are your greatest choice. Give us a call today!