Why choose Tampa Party Buses?
---
We are a professional company with years of experience in the transportation industry. When it comes to luxury party buses, there's no other company in the area doing what we do for the affordable rates we offer. You're bound to enjoy our transportation, as we carry the highest quality vehicles to ensure that your trip is exactly what you've come to expect from a professional party bus provider. You'll enjoy the best vehicles amenities, making your trip in Tampa one to remember.
---
---
Tampa Party Buses
Limousines and Party Bus Rentals
For Tampa, Florida
St. Petersburg Party Buses
St. Petersburg's Finest in Luxury Transportation!
---
---
St. Petersburg is one of the largest cities in Florida, and is, consequently one of the most bustling and exciting cities in the state. There are many attractions that bring people to St. Petersburg annually including the children's museum Great Explorations, the Museum of Fine Arts, the Museum of the American Arts and Crafts movement, The St. Petersburg Museum of History, and the Salvador Dali museum. There are also a great number of different shopping centers that have a great variety of products worth purchasing and souvenirs to remember your trip by, as well as a great number of places to grab lunch or a fancy dinner.
Here are some of our favorite places to eat or grab a drink in St. Petersburg: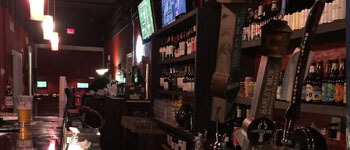 Engine No. 9
Engine No. 9 is more than just your average sports bar. For, while they do have the familiar and comfortable setting with flat screens playing the game of all of your favorite teams, it is also a smaller, cozy, and friendly environment where the bar staff seem legitimately happy to see you and to serve you. They have some of the most incredible burgers in the state, and their Sriracha wings are to die for. We also strongly recommend the Blue Fin Tuna Sashimi.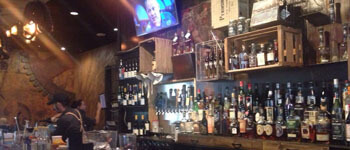 The Mill Restaurant
The Mill is an excellent restaurant which provides some extremely great food that you won't soon forget. The servers are passionate and seem to care about nothing more than providing you with an excellent and painless dinner experience. The Chefs clearly have years of experience and the meals that they expertly craft are unmatched by almost any other plate that we have experienced personally. Their Blue Crab Croquettes, their Pork Cheek Bucherondin Ravioli, and the Seared Tuan in particular keep us coming back.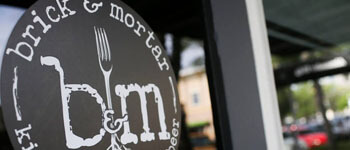 Brick & Mortar
Brick & Mortar is an eclectic blend of a wine bar with delicious and expertly crafted meals. Their bartending staff seems to have a limitless knowledge base about drinks, including all of the small and particular nuances of the wine and drinks that they have available at their bar. The food such as the braised short ribs and the parmesan polenta cakes are to die for. If you are looking for a location that has a fantastic drink menu blended with a delicious menu, the Brick & Mortar is a fantastic option for you.
The Birch & Vine
Considered one of the most fantastic restaurants in St. Pete, The Birch & Vine is well loved in the community. Their dishes are non-intimidating and yet completely unique. They offer many selections on their ample menus including Brunch, Lunch, Dinner, Desserts, and more! They have an incredible wine selection that is surprisingly affordable, as well as delctable signature cocktails. Some of our personal favorites include the Mojo Braised Pork Belly Cuban sandwich and the Ancho Chili Steak Tacos!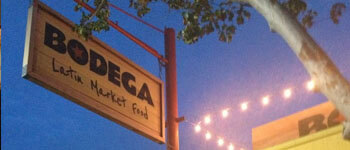 Bodega
Speaking of delicious Cuban sandwiches, you can't go wrong with Bodega on Central. Inspired by the delicious foods from the islands of Latin America, Bodega has delicious, authentic, and fresh food that sports organic, vegetarian, and vegan options, as well as a fresh juice bar and a relaxed environment, so there is something for everybody to enjoy about Bodega! Some of their best options include the Tempeh Plates and the Pollo Asado Sandwiches.
The Oyster Bar
As far as seafood goes, St. Pete's has an excellent answer for this in The Oyster Bar. Their wait and bartending staff are all extremely knowledgeable about the extensive and delicious menu, and they will have no problem making you feel welcome. They offer a myriad of fresh seafood, meat, and poultry, including, but not limited to fresh lobsters that you can get freshly shucked or baked. Some of our favorites include the Pinot Noir Braised Duck Leg and the Crawfish Pasta.
Curious?
How to use a party bus?
Wondering about Tampa Party Buses?